the three intelligences of leadership
In recent years much has been made of emotional intelligence as a key requisite for effective leadership – and we have certainly endorsed that approach. However during the last few years we have recognised a more holistic approach to genuine leadership emerging and have engaged in a series of research projects to attempt to identify this wider spectrum.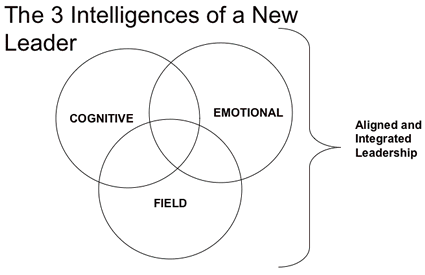 What we discovered is what we have come to term field intelligence. Field intelligence does not exist on its own but is present only when the two other recognised intelligence also exist as follows:
The 3 Intelligences:
Cognitive Intelligence
What do I know?
What have I done?
What can I learn?
Emotional Intelligence
How do I feel?
How do others feel?
How can I express myself genuinely and authentically?
Field Intelligence
How do I connect all that I know and feel together
How can I release the performance of others?
How can I be the best of all leaders for my team?
And our research has led us to identify 12 principles of field intelligence which we use to support coach and develop leaders. However this research is ongoing and we seek to involve our clients as we progress.
12 Principles of Field Intelligence
Self-Awareness: knowing what I believe in and value, and what deeply motivates me.
Spontaneity: living in and being responsive to the moment.
Being Vision- and Value-Led: acting from principles and deep beliefs.
Holistic Perspective: seeing larger patterns, relationships, and connections.
Compassion: the quality of "feeling-with" and deep empathy.
Celebration of Diversity: valuing others for their differences, not despite them.
Field Independence: standing against the crowd and having one's own convictions.
Humility: having the sense of being a player in a larger drama, of one's true place in the world.
Tendency to Ask Fundamental Questions: needing to understand things.
Ability to Reframe: standing back, seeing problems in a wider context.
Positive Use of Adversity: learning and growing from mistakes, setbacks, and suffering.
Sense of Vocation: feeling called upon to serve, to give something back.

---